ON-CAMPUS ACCESS (ON SITE)
Access to online database subscribed by UGM on site using the UGM network can be done by accessing the UGM Library page at http://lib.ugm.ac.id.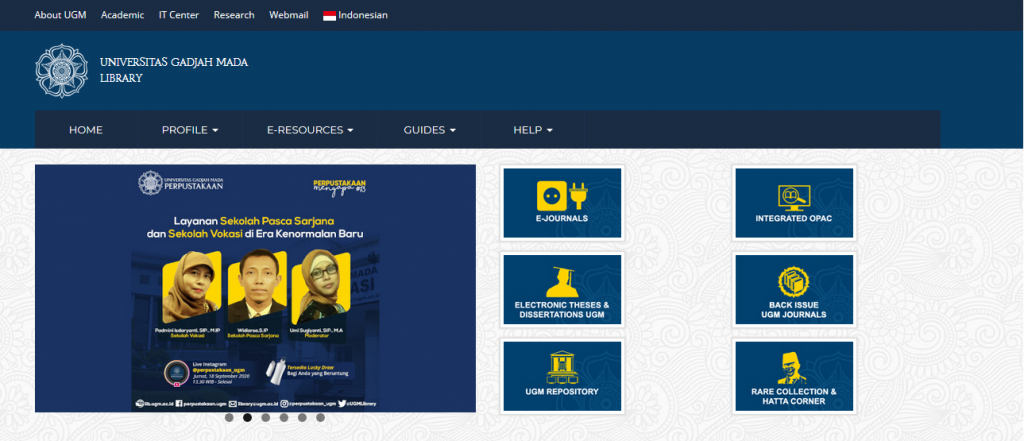 From the main page, you have several options. You can go to the "e-Resources" menu, then clicking "Online Databases, Journals, and Electronic Books" as follows.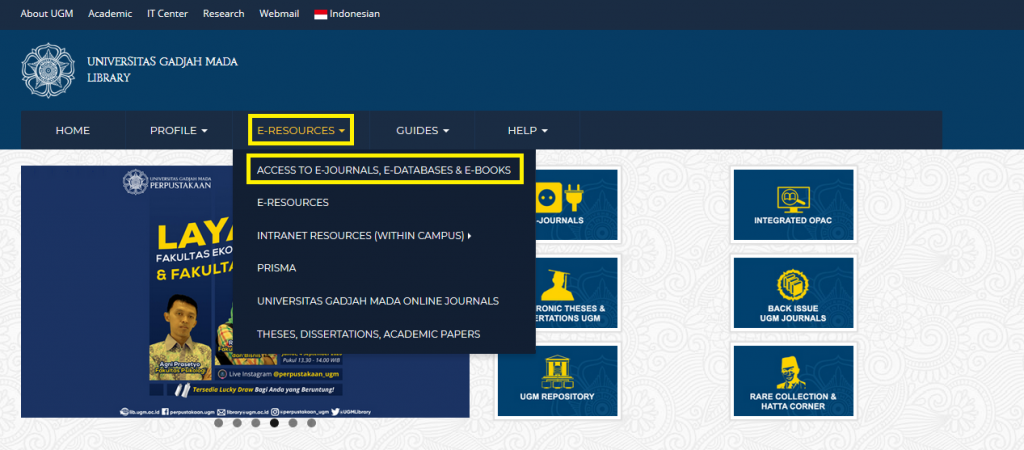 Finally, you will have a list of journals, databases, and electronic books as follows.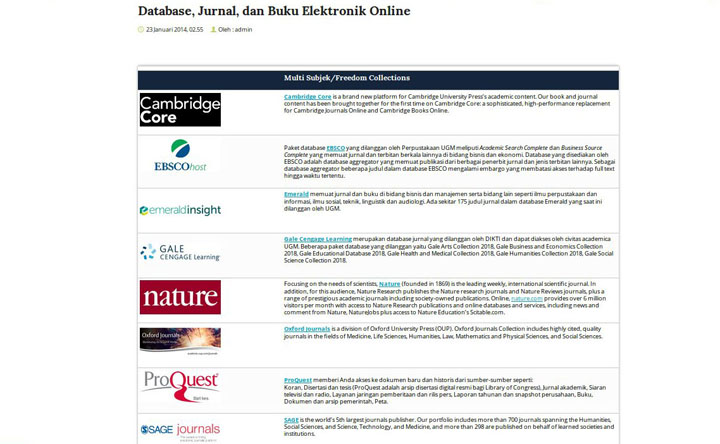 In addition, you can also go to the this menu by easily clicking on Databases, Journals, and Online Electronic Books from the E-Resources menu column which is at the bottom of the page as shown below.

OFF-CAMPUS ACCESS (OFF SITE)
You can access e-journal through the Library page or directly using ezproxy. For access via the library page, please click http://lib.ugm.ac.id the go to the "Access e-Journal" button as shown below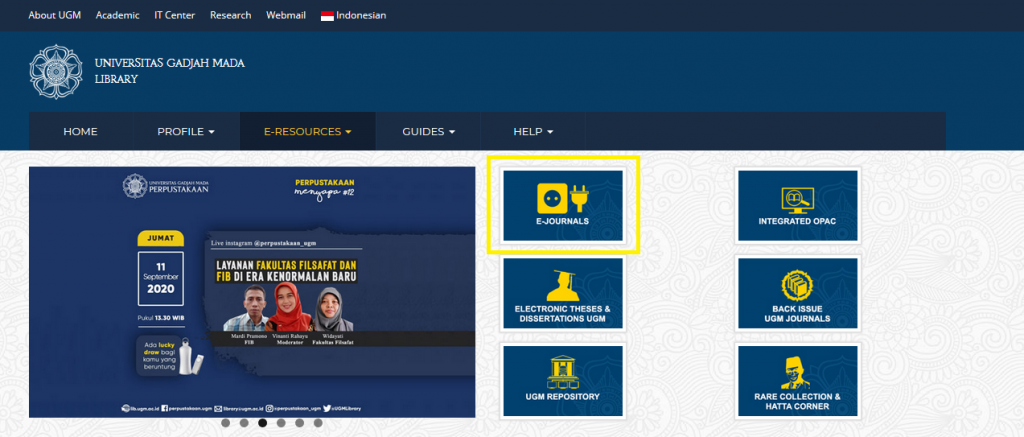 After you click the "e-Journal" button, you will enter the "Access e-Journal, e-Database, and e-Books" page, there will be question regarding the existence of our access, click "No" (see picture circled)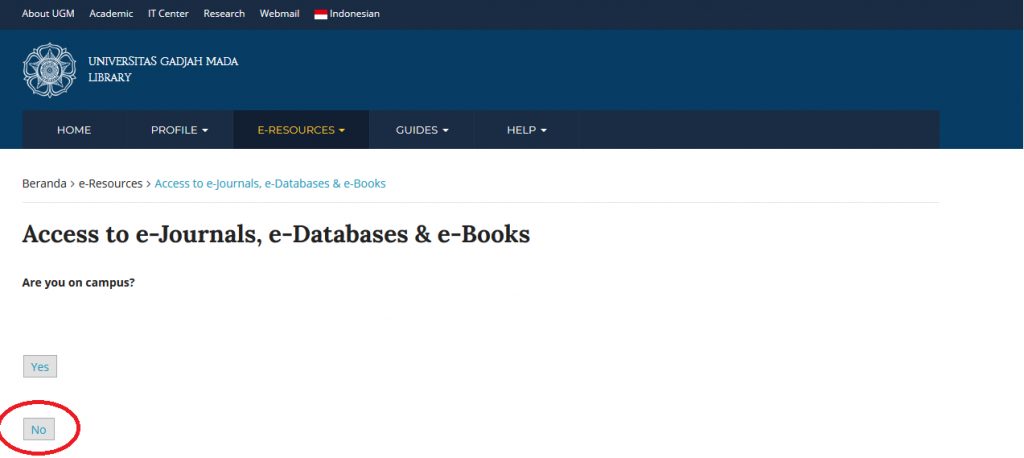 The following "Single Sign On (SSO)" page will appear
Use your UGM email account to fill in the UGM ID and Password section. Just fill in your e-mail without the need to write "@ugm.ac.id", eg. 'gatotkaca' for gatotkaca@ugm.ac.id. Next, fill in the password and then click LOGIN button to enter the online database page. If it is successful, you will see a page as follows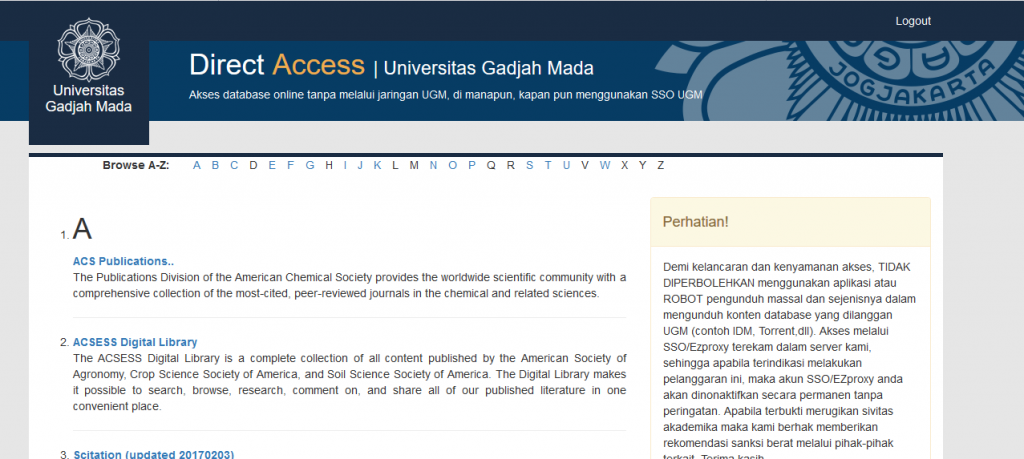 Access using ezproxy can only be done using the ugm.ac.id e-mail account, it will be then directed to the SSO menu.
Note:
For those of you who do not have an ugm.ac.id account, you can register with the UGM Directorate of Information System (DSSDI), the provisions regarding e-mail services can be checked at https://dssdi.ugm.ac.id/
You need to activate/verify your e-mail. E-mail activation services are available at the DSSDI Office and the UGM Library at the e-mail service counter, L1 Library Building, 1st Floor.
Author : Ahmad Fakih Usman