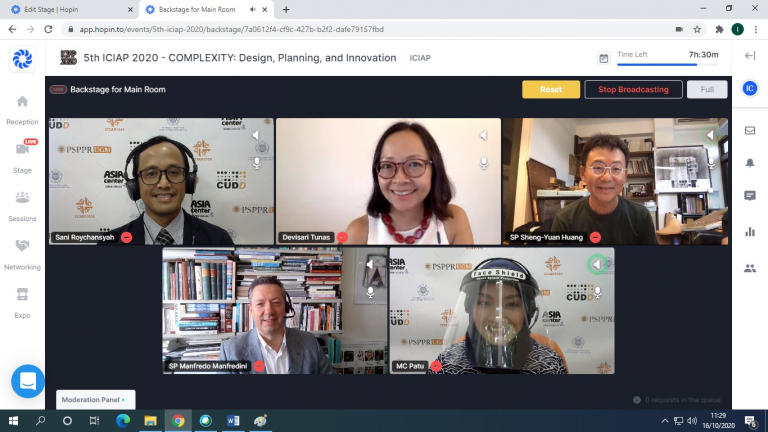 International Conference on Indonesian Architecture and Planning (ICIAP) is a conference organized once in two years by the Department of Architecture and Planning, Faculty of Engineering, Universitas Gadjah Mada. It is a must-attend conference that gathers academics, researchers, and practitioners all over the world to share their knowledge and experiences on architecture and planning ideas.
This year, this conference was held as virtual events due to the COVID-19 pandemic. With the theme "Complexity: Design, Planning, and Innovation", ICIAP was successfully held for two days on 15-16 October 2020. The 5th ICIAP explored how complexity in design and planning could be managed to deliver effective and innovative solutions for the ever-evolving world.
Event was opened by Indonesia Raya and opening speech from Harry Kurniawan, ST., M.Sc., Ph.D as Chairman of the 5th ICIAP and Ir. Muhammad Waziz Wildan, M.Sc., Ph.D. as Dean of the Faculty of Engineering. The event then continued with a Keynote Speaker session from Ryuji Fujimura and Prof. Bambang Hari Wibisono. It then continued with the Invited Speakers session with a presentation form Taro Igarashi (Tohoku University), Dunja Krause ( UN Research Institute for Social Development), and Niramon Serisakul (Chulalongkorn University).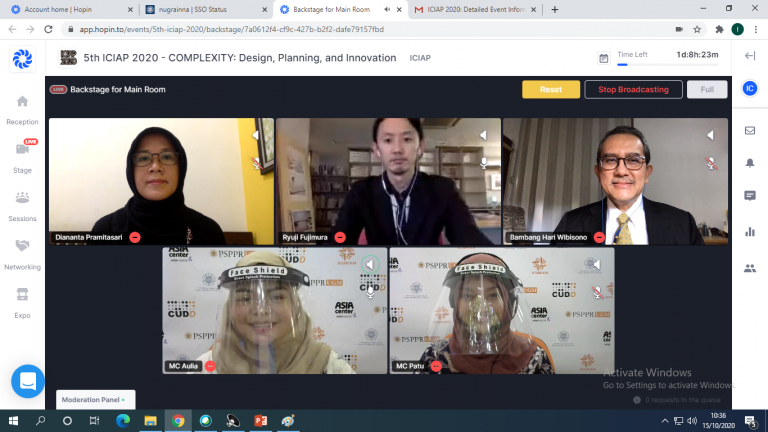 The second day was filled with two main sessions, Invited Speakers Session and Parallel Session. The speakers was Huang Sheng-Yuan (Architect, Taiwan), Manfredo Manfredini (Architect and Urban Designer, University of Auckland), and Devisari Tunas (Future Cities Laboratory).
The Parallel Session for both first and second day intended for academics, researchers, and practitioners to present their paper and as a place to share experiences in the field of architecture and planning.